Are you worried about the cracks you found in your basement wall ? Are you looking for a reliable solution that can fully fix the problem? If yes, then you should consider Carbon Fiber strap, which is one of the strongest and best materials used in the repair of bowing foundation walls compared to steel beams.
Many people do not know what Carbon fiber straps are and why they need them. This leads to many misconceptions about this type of product use in house foundation repair.
Here is a complete guide on everything you need to know about Carbon Fiber Straps.
What is a carbon fiber strap?
Carbon fiber straps are a kind of high-tech product, which are strong, lightweight, flexible and easily manufactured. It is made from carbon fibers that are tightly woven into fabrics with epoxy resin to protect the fibers. It is highly resistant to moisture, rot, decay, mold, corrosion  and insects, ensuring that they can bear large loads without any troubles. Carbon fiber strap has an incredible load bearing capacity that is up to 4 times more than steel making it ideal for civil engineering automotive and aerospace industries.
Why do you need carbon fiber straps?
Carbon fiber repair is needed when you have badly cracked or bowed foundation walls. Wall bowing generally happens due to the expansion and contraction of soil or building of hydrostatic pressure under the footing of your house. If the problem is not fixed by proper foundation repair, your walls will become weaker and more prone to damage in future.
This is where carbon fiber straps come into play. They provide strong support that helps in straightening, stabilizing and strengthening foundation or retaining walls. Carbon fiber wall straps are reliable and easy to apply. They are also aesthetically appealing, which makes them an ideal solution for your foundation repair in Knoxville.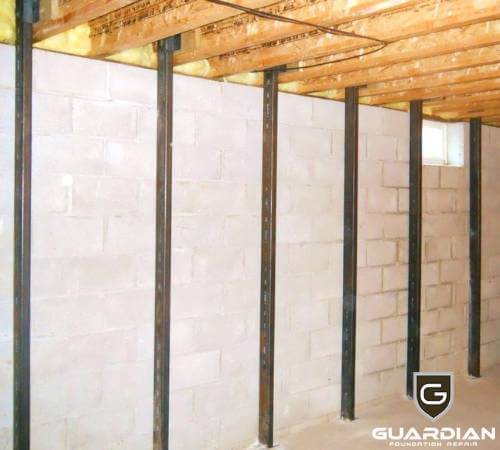 Here are some reasons that you should use Carbon Fiber Wall Straps:
High Strength:

The strength of this type of Strap is much higher than steel I beam, due to which it can be used as a repair option for severely damaged walls.

Light weight:

This feature of the carbon fiber strip is especially beneficial in situations where you have to use several straps, which would have been difficult using other materials.

Low Cost:

It is a much cheaper material than steel I beam because it uses high quality carbon fiber, which is many times cheaper than steel to produce.

Versatile:

The strap can be used for a variety of different functions including wrapping, tensioning, holding and fastening. This means that you can use a single product for several different tasks at one go.

Environment friendly:

Carbon Fiber Strap is made from 95% recycle and has a very low carbon footprint. This makes it an ideal product that is eco-friendly in nature.
Read here to know more on why you need timely foundation repair crawl space encapsulation.
How do you know that you have a bowing wall which needs immediate fix?
While it never hurts to be sure, you can always take a look at the following signs which indicate that your foundation needs a fix immediately:
Cracks in interior and exterior walls

Horizontal cracks along windows and door frames

Bowing or bulging walls

Sloped Floors

Floor doors that do not close or lock

Cracks in foundation walls and flooring
As Foundation repair is a task that requires knowledge, experience and time, it is advisable to hire a Guardian Foundation Repair certified contractor who can fix your problem effectively.
How to fix bowing walls with carbon fiber straps?
Carbon straps can be fixed at the cracks of your foundation bowing in a process called carbon-fiber reinforced polymer (CFRP). The carbon fiber installation process involves drilling holes through existing cracks at their deepest point. Once done the straps are then placed and fastened to the surface behind it with the help of small metal plates and covered with an epoxy coat. Pressure is then applied on the straps to transfer the weight of your house to subsurface soil beneath.
Guardian Foundation Repair specialists guarantee that over time these straps will strengthen cracks, which are susceptible to future damage and will keep them sealed at all costs.  
Carbon fiber straps benefits for foundation repair
Reduces Distortion

– Carbon Fiber straps can be used for fixing or leveling your foundation and they don't distort the surface of the wall.

Improves Adhesion

– Carbon Fiber Strap is self-adhesive, which makes it easy to use and increases its adhesive strength by keeping it firmly in place .

Prevents Dehydration

– This strap has a special silicone coating that prevents it from dehydration and thus enhances its effectiveness. This also makes them resistant to chemical effects in the soil.

Prevents Leakage

– The strap has a small gap between itself and the wall surface, which reduces or completely eliminates chances of leakage.
Wrapping it up
What is the better solution, carbon fiber strap or steel I-beam? 
Though both the Carbon Fiber strap and I-beams are used to support walls, they have different purposes when it comes to Foundation repairs. Carbon Fiber strap is used to stabilize and provide support to wall cracks, while I-beams can be used for bracing walls.
Another difference between these two types of products is the ease of use. Carbon fiber straps are easy to install and also require less manpower than steel I beam, which makes them more economical in terms of time and cost. So when you need to choose between Carbon Fiber Strap vs Steel I Beam for fixing wall bowing, consider all the factors that are important to you.
From both cost and usage perspective, carbon fiber strap has emerged as an ideal and quick solution for fixing bowing walls. So if you find any cracks or openings on the surface of your basement wall, do not wait for it to worsen and hire a professional soon.
Are you looking for Carbon Fiber installation services? Visit our website!
If you want to find out more about how carbon fiber straps can work best for your basement wall repair then get connected with the experts at the Guardian Foundation Repair service. We have been offering high quality foundation repair for over 10 year. And are the most reliable choice in the market when it comes to stress free house Foundation Repair.