Introduction:
Whether you want to remove molds, pests, or bad smells or improve the energy efficiency of your house, you first need to eliminate moisture from your crawl space. 
You can achieve this by encapsulating your crawl space with a vapor barrier or a crawl space liner. But how do you choose the right option for your home?
To make it easy for Knoxville homeowners, Guardian Foundation Repair specialists have outlined the key differences between the vapor barrier and crawl space encapsulation to help you decide the best solution for your home.
Crawl Space Encapsulation: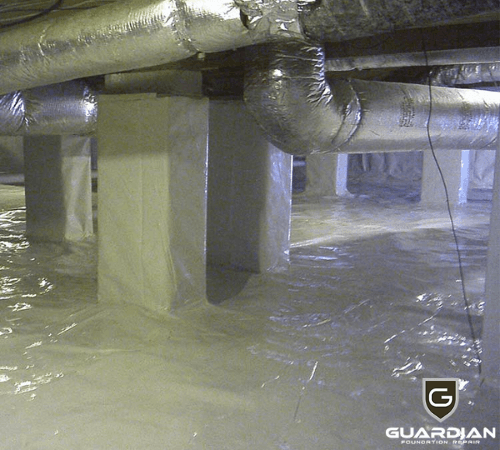 Many homeowners ignore their crawl space repair, thinking it is not an essential part of their home. But the truth is that your crawl space plays a vital role in the overall health of your house.
An uncontrolled environment poses the most significant threat to an open non-encapsulated crawl space. This means that the temperature and humidity of your crawl space can change daily or even hourly, depending on external factors. By encapsulating, you are essentially controlling the environment of your crawl space and thus converting it into an area that benefits your home in terms of health and energy efficiency.
Crawl space encapsulation is the process that involves the professional installation of heavy-duty 12 to 14mm thick polyethylene sheets on the ground and the wall of the crawl space. The waterproof sheet is then sealed using a special two-sided foundation tape at the seams and around the vents, pipes, and other penetrations to create a vapor-tight barrier. The superior quality polyethylene sheets used in crawl space encapsulation ensure that they can sustain traffic without tearing like a thin vapor barrier.
After sealing the openings, a dehumidifier is installed to remove the existing moisture from the air and maintain the relative humidity at 50% or less. It is vital to prevent the growth of mold and mildew, which can cause serious health problems.
Crawl space encapsulation has many benefits that include:
It saves money on energy bills by improving the overall energy efficiency of your home

It protects your belongings stored in the crawl space from moisture and mold damage

It reduces humidity

It enhances the quality of your home's air

It prevents hardwood floors from cupping (moisture from underneath the floor can cause the boards to warp or cup)

It increases your home's resale value

It helps avoid infestation of pests

It helps cooling and heating ducts last longer (the ductwork in an unconditioned space is subject to corrosion)
Vapor Barrier: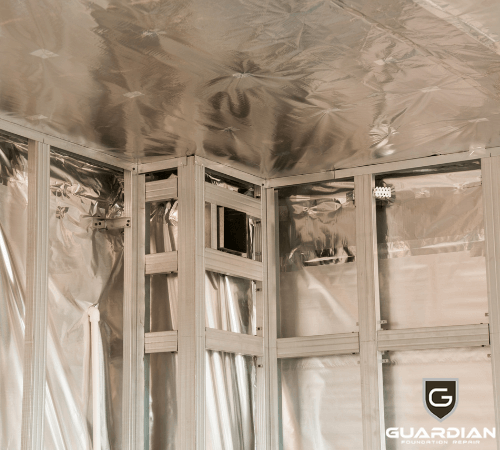 Vapor barriers are plastic liners covering the ground in a crawl space to prevent moisture from entering the area. They are usually made of 10-mil polyethylene sheets laid on the ground and fastened with staples, tapes, or other means.
This plastic covering stops at columns and the walls of the crawl space and does not extend up these surfaces. Since there is no sealing of the vents, pipes, or other openings in the vapor barrier, you do not need to install a dehumidifier or a sump pump. However, in some cases, depending on your home crawl space, a sump pump might still be necessary.
Vapor barriers are less expensive than crawl space encapsulation but do not offer as many benefits. 
The main advantages of a vapor barrier are:
It is less costly to install

Homeowners can install it as a DIY project

It reduces humidity, thereby decreasing the possibility of mold and mildew growth

It can save you money on your energy bills

It can provide your home with good indoor air quality
So What's The Better Choice?
While you may be tempted to choose the less expensive option of a vapor barrier to keep moisture out of your crawl space, they actually only tackle the gaseous water vapor coming from the ground. Therefore, they do not fix the problem when other factors like rainwater or leaks are involved causing water to pool on the floor. On the other hand, crawl space encapsulation provides a much more comprehensive solution to keeping your crawl space dry.
Since the entire space is sealed off from the outside, you do not have to worry about water vapor seeping in and damaging your home. In addition to keeping water vapor out, it helps keep in the cool air during the summer and the warm air during the winter, making your home more energy-efficient.
An encapsulated crawl space is also a very appealing feature if you plan to sell your home in the future. It will show potential buyers that you have taken the necessary steps to protect your home foundation from water damage, mold, and pests.
While crawl space encapsulation may be a more expensive upfront investment, it will save you money in the long run by preventing costly repairs and increasing your home's energy efficiency.
So, if you are still unsure about which option is best for your home, we recommend you consult our encapsulation experts at Guardian Foundation Repair in Knoxville. We will be happy to assess your crawl space and help you choose the best solution for your home.